Immediate Past President - Glenn Morrison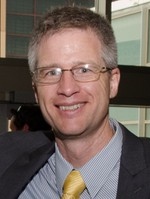 Glenn Morrison is an Associate Professor of Civil, Architectural and Environmental Engineering at the Missouri University of Science & Technology. He received his PhD and MS in Environmental Engineering at the University of California, Berkeley and prior to that worked as a chemical engineer for six years at Catalytica Inc. in Mountain View, California.
Dr. Morrison has been studying air pollution and indoor air pollution for over 20 years. His research has focused on interfacial phenomena and its impact on indoor exposure to gaseous pollutants indoors. More recently, he has worked closely with the colleagues at the University of Texas to advance diverse subjects such as passive (zero energy) air cleaning, ozone generating devices in ducts, the impact of skin chemistry on inhalation of ozone, and the adequacy of clean-up recommendations for illegal methamphetamine laboratories.
Glenn Morrison has won numerous teaching awards at Missouri S&T and received the U.S. National Science Foundation Career Award. In 2011 he co-organized Indoor Air 2011 with Richard Corsi in Austin, TX. He was recently inducted as a Fellow of the Academy of ISIAQ.
gcm@mst.edu